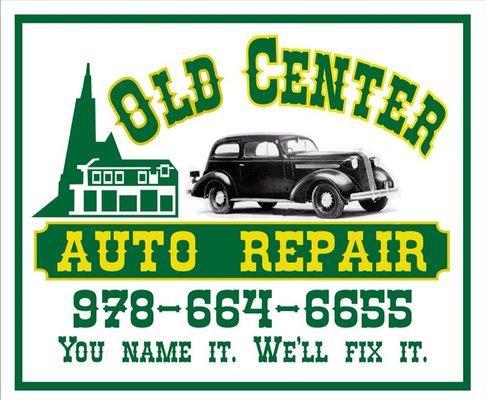 Welcome to Old Center Auto Repair, North Reading's most trusted family owned and operated vehicle service and repair shop where we have respect for both you and your car. With the latest tools and advanced technical training, our technicians, with over 10 years combined experience, will diagnose your vehicle's problem and repair it quickly and effectively.
Excellent customer service and affordable pricing set us apart from the competition. That's why our customers have been loyal to us from the start, returning time and time again for all of their vehicle service needs from tire rotations to oil changes to more serious problems. Don't forget that it is important to follow our maintenance schedule, since it insures that during ownership, you'll be less likely to encounter unexpected major repairs that are often the result of skipping routine services. We are here to help ensure that your vehicle provides many years of reliable, fun performance and invite you to come to us for auto repair in North Reading if you want to take advantage of competitve prices and dependable workmanship from our experienced mechanics.

When you see that dreaded "Check Engine" light, call Raymond at Old Center Auto Repair.
Raymond, owner of Old Center Auto Repair, has loved cars all his life — driving them, working on them and learning how to fix them. After spending 10 years working at other people's shops he decided to open his own. Raymond wanted to create an environment where only the best, most well trained technicians are employed and customer service is king.
Wanting to finally shoot down the old stereotype that car repair shops are dishonest, Raymond created Old Center Auto Repair in 2014 and due to diligence, respect and top-notch know-how, it quickly blossomed into a full service shop offering North Reading residents the very best in automotive repair and maintenance.
Old Center Auto Repair's staff consist of trained expert technicians, able to competently work on older cars as well as new models. With vehicles becoming increasingly technological, you need to be able to trust that your repair shop doesn't just employ nuts-and-bolts know-how, but also electrical and programming. Old Center Auto Repair specializes in a variety of makes and models of cars including SUV, trucks and fleet vehicles.

160 Park Street
North Reading, MA 01864